Time tracking is an optional feature. If it is enabled for your program, your students will have a time tab in their projects where they can record hours spent on their project from day to day. This article details how that works. If you would like to enable this feature, there is no cost, simply contact us to switch it on!
Hours logged by students are visible from the time tracking dashboard which can be accessed by clicking Dashboard and clicking Time.
This dashboard displays hours logged by each team and individual student, on a weekly basis. You can also see which students on a given team are under or over-represented in their hours, relative to their teammates.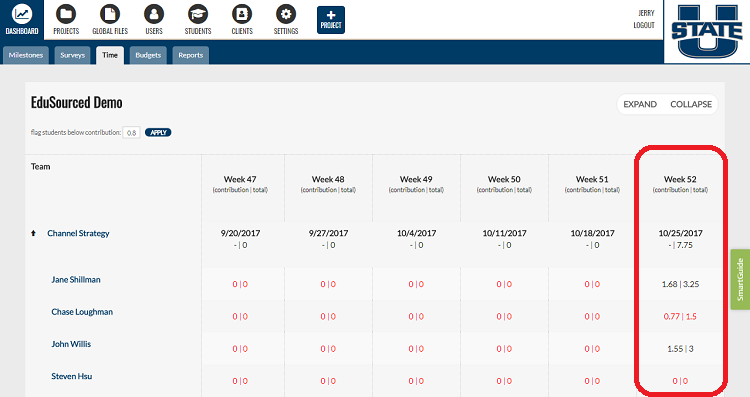 In the example above, Jane's contribution is rated at 1.68, Chase is rated at .77, John at 1.55 and Steven at 0. 1.0 is the par value meaning the student contributed an amount of hours that represents an equal balance between his or her teammates. Any rating above 1.0 means the student committed more hours than their teammates, on balance and below 1.0 means the student committed fewer hours. 7.75 at the top of the column is the total number of hours committed that week by the team.
Student contributions can be flagged in red if they are below par based on your own input. In the example below, students are flagged in red if they are under a .8 of their teammates' contributions. You can customize this value to easily identify student underperformance at a glance based on the threshold you feel best represents a problem.

The Metrics section shows you detailed metrics of a student's contribution over a custom timescale. Select your beginning and end dates for the timescale. In the example below, I selected 10/26/16-10/27/17. Each student on a team's contribution score, average per week hours and total hours committed are displayed. This is useful if you are evaluating a student over some particular time period, perhaps for grading purposes.