TeamBuilder is a tool for matching students into teams efficiently allowing you to stage students into teams before clicking Finalize Teams. Staging a student does not send an email to that student. Only clicking Finalize Teams adds the student to the project and sends an email notification Students can be added from bidding results or directly from your student roster. Watch the video below or read on for step by step instructions on how to use it! For instructions on how to use Bidding in EduSourced, click here.
To populate your TeamBuilder, select a bid or a projects and students source at the top of the page:

Using the team menu for a detailed look at teams and students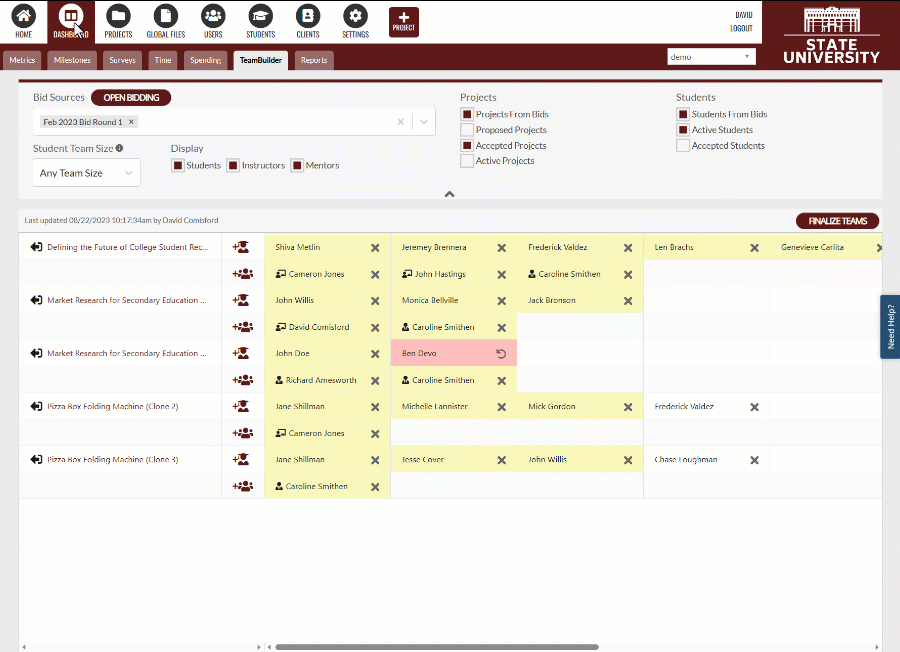 To create teams based on bidding results
Select a bid source in the dropdown

This is the default view if you have any recent project bidding rounds
You can select multiple bids if needed, just click the dropdown again and select another bid
To skip bidding and create teams directly from your student roster
Select a project and student status (i.e. Accepted projects, active students)

This is the default if there are no recent bids in your workspace
Use the +Student button to stage students onto a project. Clicking it pops a dropdown selector:
The dropdown includes bid results (if applicable)
Students already staged or placed on a project will be at the bottom of the list
Search: you can search for any (non-alumni, non-disabled) student in EduSourced by typing their name or email address in the dropdown input box (labeled Select in the image below):

TeamBuilder Table Color Coding
Staged students: have a yellow background. They will not have access to the project or receive an email notification until Finalize Teams button is clicked.
Any students already placed on a project appear with a white background.
You can remove students from their staging by the X. Removed students are staged for removal, have a red background but are only removed from the project when Finalize Teams is clicked.
When you are ready to add your staged students to their projects, click "Finalize Teams". Students will receive the standard added to team email notification (and welcome email if they haven't already received it) and gain access to the project.
Saving your changes
Staged changes to your teams are saved automatically. Any InstructorPlus or Admin can review and edit the teams within TeamBuilder before Finalize Teams is clicked.
If multiple users are editing concurrently, you will need to refresh your browser window to see the other users changes.