To update your program's Project Health settings, any Administrator User can access Settings > Project Health. For more information on how to use this feature, click here.

Click the toggle button to enable and disable the feature and click Show advanced options to fully customize this feature. Note that by simply turning this feature on, you are already using our recommended presets and, unless you want to tinker, there is no requirement to adjust advanced options.
Aside from advanced options, which we will cover below, the primary choice to make when enabling Project Health is which User types you want to participate. By default, Students, Clients and Mentors are set to participate. You can select or deselect any of these user types (including Instructor).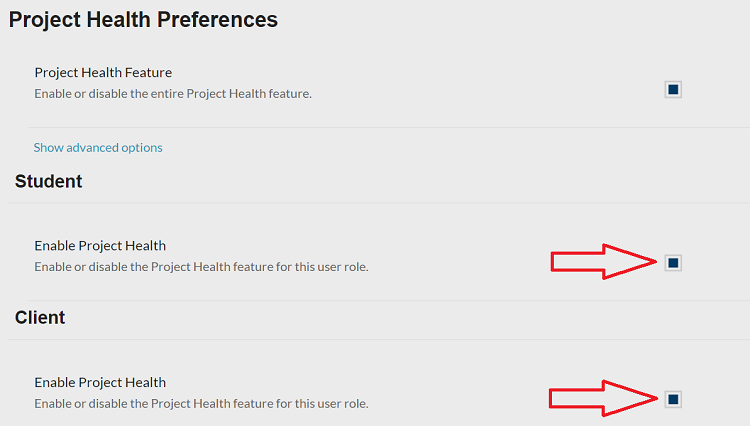 Advanced Options
You have 9 options you can adjust and each can be adjusted independently for each User type by updating the option under the User type header. The example below shows options Student Users.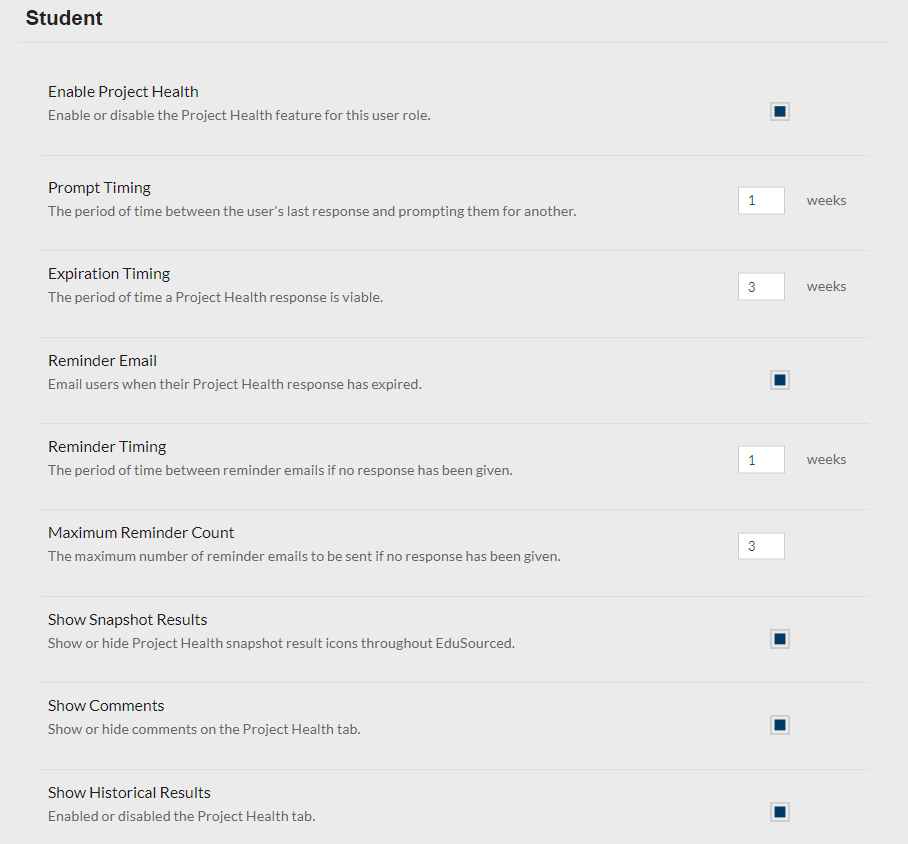 Enable Project Health: turn Project Health on or off for this user type
Prompt Timing: how often should this User type be prompted to submit a Project Health rating? Keep in mind the User can submit Project Health at any time, but this prompting encourages engagement by displaying Project Health prominently in the project to that user once the selected number of weeks have passed.
Expiration Timing: how long should the User's most recent entry remain valid toward the Project Health calculation of Green, Yellow or Red? Each User can submit their own rating so, for example, 5 students could submit but any student who submitted later than the number of weeks identified here will have their score no longer applied to the Project Health snapshot until they provide a new rating input.
Reminder Email: beyond the in-app prompting, the system can send an email reminder. This is enabled by default but can be disabled by deselecting the checkbox.
Maximum Reminder Count: the system will not send endless email reminders to a User so you can specify here how many times a User should be emailed to enter their Project Health rating. When a User does provide a Project Health rating, they will no longer be reminded, so this is just the maximum number of emails they can receive. Emails are sent one week apart.
Show Snapshot Results: should this User type be able to see the current Project Health overall rating? For example, do you want the Client to see if the Student team is providing an Off Track rating to the project or should that be private? If private, deselect this option for Clients.
Show Comments: select whether this User type should be able to view comments left by other Users as part of the Project Health record.
Show Historical Results: select if this User type can see past Project Health ratings provided by other Users on this project.